Canadian police is warning the public for a new type of counterfeiting involving the 5-dollar notes.
In a nutshell: "Police say counterfeiters are removing the clear panel near the side of the bill, which also contains two shiny, embedded holographic strips. The clear plastic is being replaced with tape, and tinfoil is being used as a substitute for the holograms.
Investigators suspect the real $5 panels are being repurposed to create higher-denomination counterfeits, while the cobbled-together $5 bills are being put back into circulation. The result is two Frankenstein-like sets of bills, with each containing elements of real and fake banknotes."
I wonder if we will see these kind of notes show up on sites like eBay advertised as "very rare misprints!".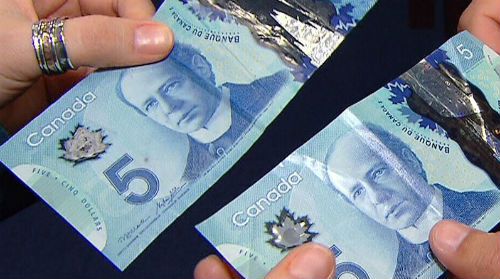 The top note is counterfeit, the real note is the bottom one.