United States of America - 5/10/25/50 cents - 1969 - PM75/PM76/PM77/PM78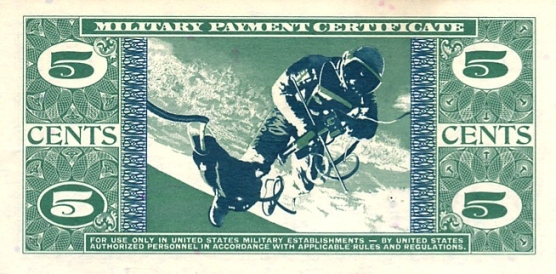 Military payment certificates, or MPC, was a form of currency used to pay U.S. military personnel in certain foreign countries. It was used in one area or another from a few months after the end of World War II until a few months after the end of U.S. participation in the Vietnam War, from 1946 until 1973.
Thirteen series of MPC were issued between 1946 and 1973, with varied designs often compared to Monopoly money due to their colors. After the official end of U.S. participation in the Vietnam War in early 1973, the only place where MPC remained in use was South Korea. In autumn of 1973, a surprise conversion day was held there, retiring MPC and substituting greenbacks. MPC was never again issued, and the concept lay dormant until the late 1990s, when it was revived somewhat in the form of a Stored Value Card system, used by U.S. armed forces in Iraq.
This series from 1969 show an astronaut on the back of the notes conducting a spacewalk above planet Earth. The first spacewalk by an American astronaut was done in 1965 by Ed White, about three months after kosmonaut Alexey Leonov performed the very first spacewalk ever.
You can see the rest of the notes after the click:
10 cents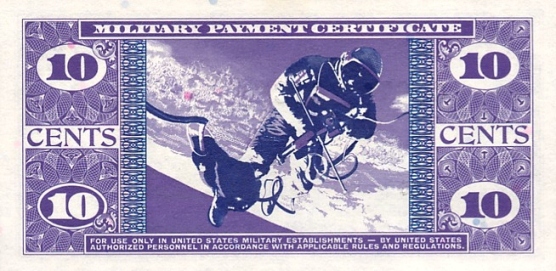 25 cents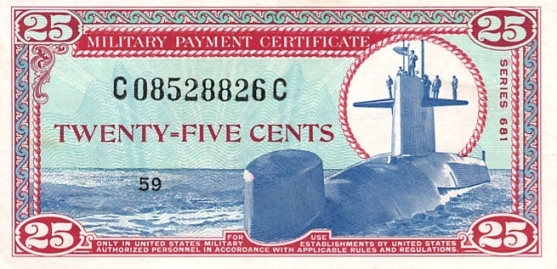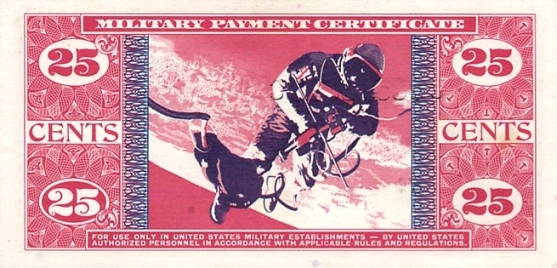 50 cents