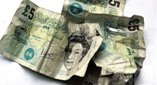 The Telegraph has a funny study on banknotes today. Researchers looked at how people spend money, particularly when they pay with either old filthy banknotes or with nice new crisp notes. You can already guess the conclusion: people tend to spend 'filthy money' faster than new banknotes.
Even though it's just money we value it more when it's nice and clean because it makes us feel proud to have it - especially if we're in a social setting where other people might see the bills, the researchers said. This could mean that asking a bank cashier for newer notes could in fact help curb spending, they said.
Of course, collectors already knew that nice uncirculated banknotes have far greater value.