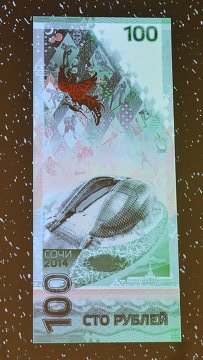 As mentioned earlier this year Russia will issue a special 100 rouble banknote commemorating the Winter Olympic Games in Sochi in 2014. Details on the design have now been released to the public by the Central Bank of Russia.
The design of the banknote was revealed at a presentation at Krasnaya Poliana in Sochi. The banknote's designer is a student of the Repin Institute of the St. Petersburg Academy of Arts, Pavel Bushuev , who won a contest to design the banknote. The banknote is vertically oriented.
The blue tinted banknote depicts a flying snowboarder on one side, and on the other - the Olympic Stadium and a firebird. As part of another innovation the banknote will be released in an original gift box. 10 million banknotes will be released into circulation in Russia.
The Central Bank of Russia will issue the commemorative 100 rouble note in October, a hundred days before the start of the Winter Olympic Games in Sochi.