Norway - 200 kroner - 1994-2014 - P48/50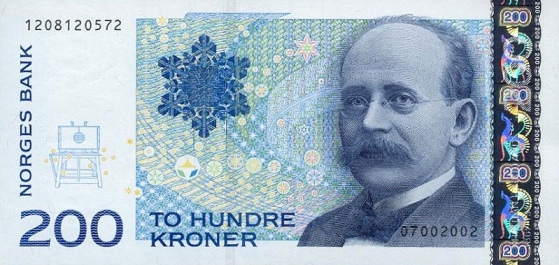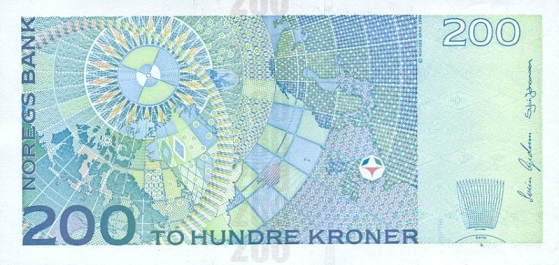 Last night we could see a phenomenon which is pretty rare in The Netherlands but occurs more often in countries like Norway: Aurora Borealis, or northern lights. This Norwegian banknote of 200 kroner features a portrait of Norwegian scientist Kristian Birkeland (1867-1917).
Birkeland organized several expeditions to Norway's high-latitude regions where he established a network of observatories under the auroral regions to collect magnetic field data. The results of the Norwegian Polar Expedition conducted from 1899 to 1900 contained the first determination of the global pattern of electric currents in the polar region from ground magnetic field measurements. The discovery of X-rays inspired Birkeland to develop vacuum chambers to study the influence of magnets on cathode rays. Birkeland noticed that an electron beam directed toward a magnetised terrella was guided toward the magnetic poles and produced rings of light around the poles and concluded that the aurora could be produced in a similar way. He developed a theory in which energetic electrons were ejected from sunspots on the solar surface, directed to the Earth, and guided to the Earth's polar regions by the geomagnetic field where they produced the visible aurora. This is essentially the theory of the aurora today.
The front of the note shows northern lights rising upwards to the North Star. Also visible are the Little Bear (Ursa Minor) and the Big Dipper constellations. Birkeland's Terrella is shown on the left. On the back of the note is a map of the North Polar region. Northern lights are visible along the coast of northern Norway at night; they are visible over Svalbard, a Norwegian archipelago in the Arctic Ocean, during the day. We also see a depiction of Birkeland's thoughts about the orientation of electric currents in connection with the northern lights. Currents near the auroral arcs flow parallel to the ground, while those that are higher up flow along the earth's magnetic field lines. These currents are called Birkeland Currents.