Yesterday I read a very interesting article on the website FTM.nl (Follow The Money) titled "This is our new currency (if things go wrong with the euro)". It's an investigative journalism site which is unfortunately behind a paywall, but if you sign-up you can read the first month for free after which the subscription is cancelled automatically (articles are in Dutch but Google Translate will get you pretty far, for those interested).
Anyway, what peaked my interest was of course the title and subject of the article. There have always been rumours that during the Greek debt crisis the financial world and the Finance Ministers in particular took into consideration that the euro might collapse. What then? We couldn't just open the vaults and bring out the old gulden banknotes again.
The Dutch Finance Minister Jeroen Dijsselbloem never publicly admitted it but in deepest secret the Dutch banknote printer Royal Joh. Enschedé was preparing for exactly such an event. The article describes the search for these illustrious banknotes and the secrecy surrounding the production. Even admitting that such banknotes were being printed for a worst case scenario could very well have been explained as the Dutch already giving up on the euro furthering its downfall.
Although the journalist eventually had confirmation that the banknotes had indeed be printed, he never had visual proof of them. Rumour has it that they are still being kept in a gigantic vault in the middle of The Netherlands. No proof, until he met a retired public servant from the Dutch Ministry of Finance who (after some hesitation) showed him the note below.
It's supposed to be a banknote of 5-florijn, the so-called proposed new currency of the post-euro Netherlands. As you may know, the florijn has been a currency in the past and is still used today in some parts of the world. How totally awesome would a find like that be??
Well... it's not. What the journalist was shown is a 5-florijn testnote from Royal Joh. Enschedé. A note which is not a secret at all but can be bought on eBay. The search for the real secret post-euro banknotes continues, I guess.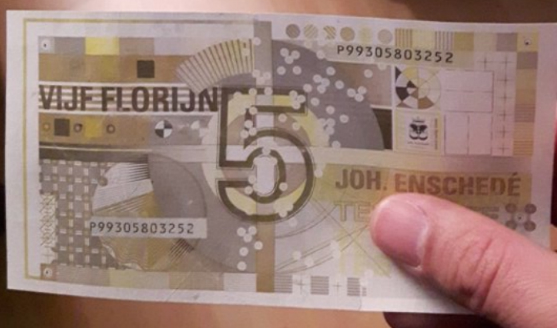 Image © www.ftm.nl.