Canada - 100 dollar - 2004 - P105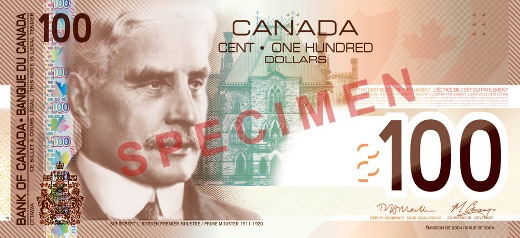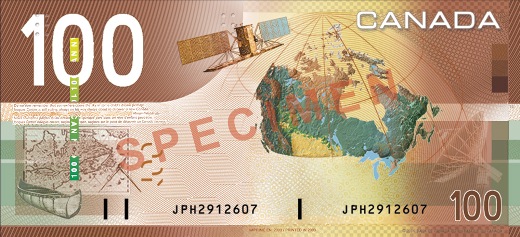 The previous series of banknotes from Canada (and the last one on paper) had "Canadian journey" as its theme. The series celebrated the history, culture and achievements of Canada. This 100 dollar note was the highest denomination in that series.

On the front is a portrait of Sir Robert Borden, Prime Minister. The themes of exploration and innovation on this particular note are illustrated with images of Canadian achievements in cartography and communications. A map of Canada created by Samuel de Champlain in 1632 is paired with a birchbark canoe and juxtaposed with depictions of a satellite image of the country, Radarsat-1 (Canada's first commercial Earth observation satellite), and a telecommunications antenna. An excerpt from Miriam Waddington's poem, Jacques Cartier in Toronto, and its French translation by Christine Klein-Lataud, summarizes humanity's eternal quest for discovery.