Canada - 5 dollar - 2013 - P106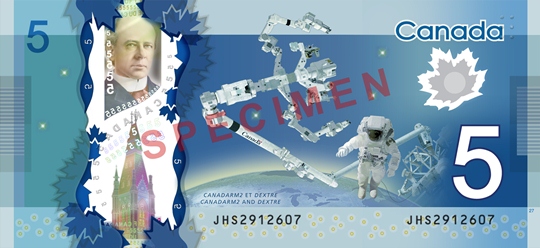 The banknote that started this theme blog on space and astronomy banknotes: the Canadian 5 dollar note issued in 2013. It's the last issue in the new polymer series of banknotes.
The back of the note depicts Canada's involvement in the International Space Station with the Canadarm2, the Dextre and the Mobile Base. We also see an astronaut and the image of Earth in the background. The Canadarm2 is the centrepiece of Canada's contribution to the International Space Station. The 17 metre-long robotic arm plays a major role in the assembly and maintenance of the station. It routinely makes repairs, moves equipment and supplies, captures and docks unpiloted spacecraft and, at times, supports spacewalking astronauts. Launched in April 2001, Canadarm2 is a larger, more advanced version of the original Canadarm, which was retired in July 2011.
The Dextre, which is short for Special Purpose Dexterous Manipulator, is a sophisticated two-armed robot that attaches to Canadarm2. It acts as a space handyman and performs routine upkeep and repair work outside the International Space Station so that astronauts can devote their time to scientific research. Launched in March 2008, Dextre is sometimes referred to as "the Canada Hand" since it rides on the end of Canadarm2 and manipulates small components that require precise handling.
The Mobile Base is a moveable work platform and storage facility. It serves as a base for Canadarm2 and Dextre. The astronaut depicted on the $5 note represents all Canadians who have contributed to the space program and the scientific research conducted on board the International Space Station.
One of the Canadian astronauts was commander Chris Hadfield who had the honour of presenting the new banknotes from the International Space Station.