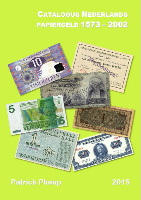 I live in the Netherlands and I'm dutch but until recently I've never had any 'extra' interest in dutch banknotes. For me as a collector they were just as valuable or in demand as banknotes from any other country. But lately I've taken more of an interest in the heritage of my own country and have been acquiring more dutch notes.
One of the problems you quickly face when collecting dutch banknotes is that they are generally speaking more expensive than other banknotes. Not a lot of dutch banknotes can be found in the 1-euro-per-note-baskets at dealers. A second problem is that the existing catalogs are far from complete. Most catalogs like The Standard Catalog of World Paper Money have only (most of) the standard notes and hardly any varieties.
One member of the dutch chapter of the IBNS, Patrick Plomp, has taken the initiative to compile a new catalog of dutch banknotes which promises to be the new bible for this field of collecting. Every banknote and every variety which has ever circulated in the area we now call the Netherlands (from 1572-2002) will be described, priced and shown. It's not surprising that the end result of all this research provides us with a catalog of about 450 pages. An example can be found here.
The catalog is supposed to be issued in the last quarter of this year and the retail price will be € 34,95. You can also choose to pre-order one today and receive a discount of 15%. More info can be found here.