The Monetary Authority of Singapore (MAS) has issued 6 new notes on 20 AUgust 2015 commemorating the 50th anniversary of Singapore. The set contains a $50 polymer note and five $10 polymer notes. From the press release: "The note designs drew inspiration from significant milestones and achievements in Singapore's history, the multiracialism that defines us as a nation, and the values and aspirations that underpin Singapore's progress. The front of both the $50 and $10 notes feature the portrait of Mr Yusof Ishak, Singapore's first President, as in the current Portrait series notes.
The $50 note highlights Singapore's history, transformation and future. It shows the late Mr Lee Kuan Yew, Singapore's first Prime Minister, shouting "Merdeka!" – the rallying cry of our independence struggle. The note makes distinctive use of the colour gold, reflecting Singapore's Golden Jubilee.
The five $10 notes have a common front design and varying back designs depicting the theme 'Vibrant Nation, Endearing Home'. Each note reflects a value or aspiration that defines this theme:
'… regardless of race, language or religion…'
'Opportunities for All'
'Safe and Secure'
'Strong Families'
'Caring Community, Active Citizenry'.
Both the $50 and $10 notes have security features that are the first of their kind in the world to be used on a currency note. The security stripe on the $50 note has a unique see-through feature with "image movement effects" that create depth to the image of Mr Lee Kuan Yew. The SG50 logo has "colour-switching effects", with the year flipping from '1965' to '2015'. The $10 notes have a security stripe with a "switching effect" which features the Singapore Coat of Arms, SG50 logo and the years '1965' and '2015'.
The SG50 commemorative notes were designed by four local artists and designers, namely Mr Chua Mia Tee, Mr Eng Siak Loy, Mr Weng Ziyan and Mr Fabian Lim.
The public can exchange the SG50 commemorative notes at face value at branches of nine major retail banks from 20 August 2015 onwards. (...) A total of 20 million pieces of the $50 notes and 75 million pieces of $10 notes - 15 million pieces of each design - are being printed.(....) From 1 October 2015 onwards, the SG50 notes will be made available to non-Singaporeans as well.
50 dollar: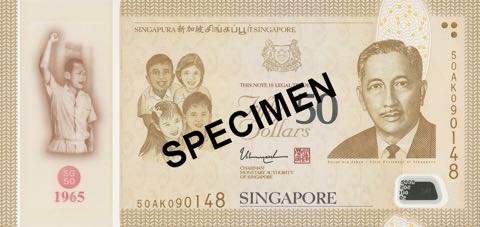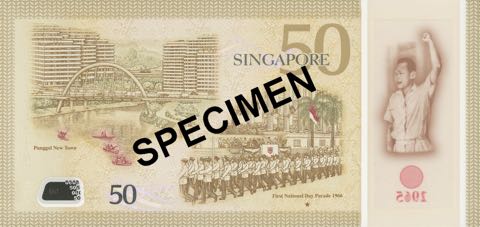 10 dollar (with the different backs):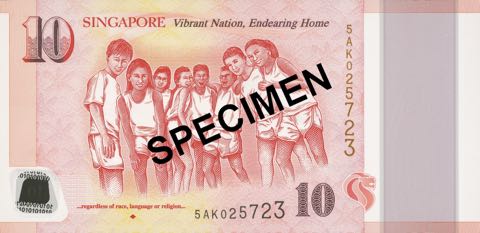 "
… regardless of race, language or religion…"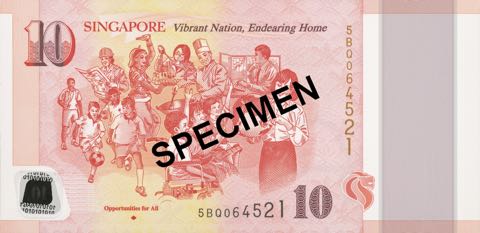 "Opportunities for All"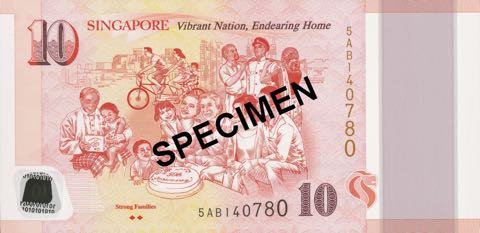 "Safe and Secure"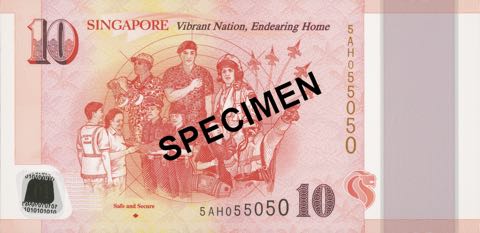 "Safe and Secure"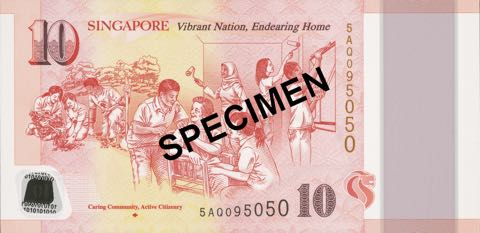 "Caring Community, Active Citizenry"