Zoals eerder aangekondigd zou ik nog een achtergrondstukje schrijven over het Canadese Duivelsbiljet dat ik onlangs op de kop wist te tikken.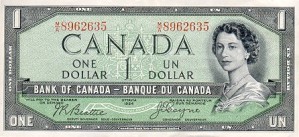 In 1952 volgde Elizabeth Alexandra Mary Windsor haar vader koning George VI op als koningin en werd vanaf dat moment Elizabeth II. Als koningin van het Verenigd Koninkrijk was ze automatisch ook Head of State van vele landen van de Commonwealth. Als officieel staatshoofd heeft Elizabeth II de bankbiljetten van 33 landen en gebieden gesierd. Eén daarvan is Canada.
Zoals dat gaat na een troonswisseling werd in 1952 opdracht gegeven om een nieuw Canadees bankbiljet te ontwerpen met het gezicht van het nieuwe staatshoofd erop. Gekozen werd om het ontwerp te baseren op een foto van de Canadese fotograaf Yousuf Karsh. Na selectie van de foto wordt een ontwerp gemaakt door graveur George Gunderson dat ter goedkeuring aan de koningin zelf wordt voorgelegd en als die er een klap op geeft, wordt vervolgens de rest van de procedure gevolgd. Het uiteindelijke resultaat leverde in 1954 een nieuwe serie bankbiljetten op.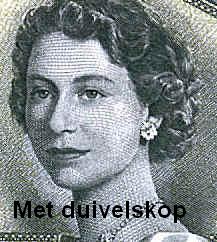 So far so good en niets bijzonders. In datzelfde jaar kwamen er echter bijzondere klachten binnen bij de Bank of Canada. Er werd beweerd dat in het ontwerp van het kapsel van Elizabeth II een grijnzende duivel verstopt was! En inderdaad: zonder al teveel fantasie te gebruiken kon je in de krullen van de koningin achter haar oor een gezicht herkennen. Was het toeval of opzet?
De ontwerper Gunderson claimde onschuldig te zijn aan de mogelijke majesteitsschennis: hij had alleen de foto overgezet naar een tekening. Er werd gekeken of er misschien een grapjas bij de bank zelf aan het werk was geweest die het ontwerp veranderd had. Of was het wellicht het werk van Frans-Canadese nationalisten die de niet gewenste Engelse koningin zo belachelijk wilden maken? De wildste theorieën deden de ronde.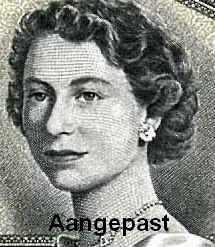 Er kon uiteindelijk geen schuldige worden aangewezen maar de Bank of Canada had al maatregelen genomen. De volledige serie van 1954 werd gecancelled en uit het betalingsverkeer genomen. Een nieuw ontwerp met een aangepast kapsel werd zo snel mogelijk uitgebracht. De oude bankbiljetten werden echter zeer geliefd en gezocht onder verzamelaars die de 'duivelsbiljetten' maar wat graag aan hun collectie wilden toevoegen.
Hoe kon het nu uiteindelijk zo fout gaan met het ontwerp? De oorspronkelijke foto was er één uit een fotosessie genomen op het moment dat Elizabeth nog prinses was. Er wordt gezegd dat de Bank of Canada deze foto koos omdat dit er één was zonder tiara om op die manier de Frans-Canadese nationalisten uit Quebec tegemoet te komen. Hoe dan ook zijn er van die fotosessie meer foto's bewaard gebleven, zoals onderstaande foto.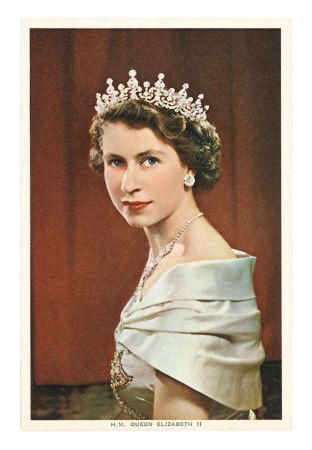 Met wat (meer) fantasie is daar ook een bepaalde vorm in de krullen te ontdekken. De duivelskop lijkt dan ook, alle complottheoriën ten spijt, een bizar toeval maar wel eentje die bij het oorspronkelijke ontwerp wellicht eerder opgemerkt had kunnen en moeten worden.
Meer informatie over de beeltenissen van Elizabeth II op diverse bankbiljetten door de jaren heen is te vinden in dit mooie overzicht van PJ Symes.