I hadn't visited Van Mastrigt in Rotterdam for a while so when I had a free afternoon I stopped by them. Their banknote collection is very small and most of it is piled up in something which can best be desribed as a waste paper basket. Most of it isn't worth much and in very poor quality (Van Mastrigt is primarily a coin- and stampshop). So it takes some time and a trained eye to spot the good banknotes between the toilet paper.
Apparently someone had brought a large amount of Austrian Notgeld because it comprised half of the available banknotes. I'm not really a Notgeld collector but nice looking or interesting notes always spark my interest. After about half an hour of digging through piles of paper money I had six new notes for my collection.
From Austria three Notgeld notes. A very nice one from Waldhausen and two from Mauthausen. Mauthausen, haven't we heard that name before? Indeed, the place where a famous World War II concentration camp was. They apparently have a thing for prisoners in Mauthausen because on the two banknotes are pictures of "different types of prisoners of war" from World War I. Now there's a nice thing to put on your banknote...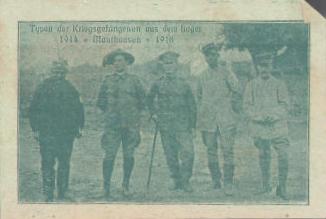 From Spain a 2 Pesetas (P95) from 1938 with the text "Republica Espanola" on it. This was issued during the Spanish Civil War.
My second Swiss banknote is the 10 Francs from 1963 (P45h).
One of my goals is to have at least one banknote from every country. But I also have a preference for some countries and one of those is Germany. So I'm delighted to have found the first ever banknote issued in the Federal Republic of Germany better known as West Germany. From 1948 it's the 1/2 Mark (P1a).