A rather funny story in New York Magazine about Jack Lew. In particular his signature. You might ask: what does it matter what the signature of the current chief of staff of president Obama looks like? Well, because mr. Lew is probably going to be the next Treasury Secretary of the United States and his signature will appear on the new dollar banknotes. So yes, it matters a little bit more than the average signature. What's so weird about it? Check for yourself in this photoshopped picture: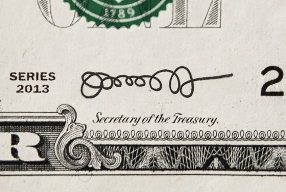 He wouldn't be the first Treasure Secretary who would change his John Hancock for his new job. The current Secretary Timothy Geithner also had to change his signature when he took up the job. You can view the before and after version in this interview. To see if any of the previous signatures were also a bit weird or ugly, you can view the entire list of signatures here.
I personally think Lew's signature is pretty cool!
Update 11-1-2013: President Obama jokes about the signature at the press conference announcing Lew's candidacy. He 'promises' that Lew will "make at least one letter legible in order not to debase our currency".
Update 12-1-2013: It just keeps on getting better. You can now see how Jack Lew would sign YOUR name by visiting this Jack Lew Signature Generator. LOL.