The Central Bank of Sri Lanka has issued a commemorative note today, 15 November 2013. The 500 rupees note has been issued to mark the Commonwealth Heads of Government Meeting in Sri Lanka from 15th to 17th November 2013. From the press release (doc):
The size, colour and the security features of the Commemorative note are same as in the current circulating Rs. 500 note in the same series with the following changes only.
On the front of the note:
CHOGM 2013 Sri Lanka logo in single purple colour appearing at the lower left corner of the note replacing the butterfly of the currently circulating Rs. 500 note
A security feature of an additional watermark by adding a design around the electrotype vertical numerals 500, to differentiate the CHOGM commemorative note from the currently circulating Rs. 500 note
Date on note: 2013.11.15. On the back of the note: the same images will remain as in the present Rs. 500 note.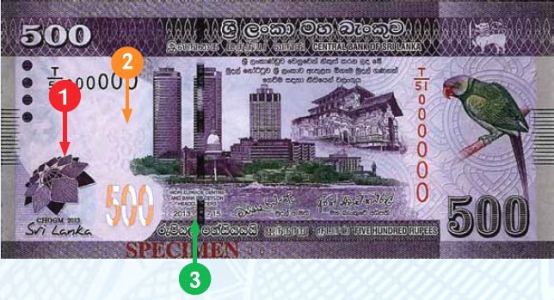 A quantity of 5 million notes will be issued and the serial numbers of the notes will be from T/51 000001- T/55 1000000. A limited number of early serial numbers will sold in a folder.