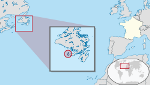 After last weeks new addition of Tannu Tuva I received a banknote from another new country this week and again it's a pretty unknown note issuing 'country' to most people: Saint-Pierre-et-Miquelon.
Saint-Pierre-et-Miquelon's official name is: collectivité territoriale de Saint-Pierre-et-Miquelon. It's a self-governing territorial overseas collectivity of France, situated in the northwestern Atlantic Ocean near Canada. It is the only remnant of the former colonial empire of New France that remains under French control. The islands are situated at the entrance of Fortune Bay, which extends into the southern coast of Newfoundland, near the Grand Banks.
As you can see in the scan the note is damaged and normally I wouldn't buy a note like that. The thing is though: banknotes from Saint-Pierre-et-Miquelon are pretty rare and therefore pretty expensive. This note still looks very decent (the non-damaged parts are almost UNC) and I could get this for a bargain. So I present you: the 20 francs (P24) from country number 199!