It was already announced in November 2014 and was expected to be issued before the end of the year, but it seems that the new commemorative 20-dalasi note will finally be issued on 2 March 2015. And not only that: the Central Bank of the Gambia will introduce a whole new series on 30 March 2015 including a new 200-delasi note. Update 05-04-2015: the new family of notes is delayed until 15 April 2015.
From the press release: "Commemorative D20.00 Polymer Banknote. This is the first series of Polymer Banknotes to be issued by the CBG and is intended, among other things, to Commemorate 20 Years of the July 22nd Revolution and to be in line with international best practice.
The Polymer Banknote is based on the existing D25.00 note and therefore similar in many aspects except that the colour background of the D20 Polymer banknote is green and bears the portrait of the President, H.E. Sheikh Professor Alhagie Dr. Yahya. A. J. J. Jammeh. The polymer banknotes have a date of 22nd July 2014 with the words "20 Years of Progress and Self-Reliance" written on the centre bottom of the obverse side of the note. Few critical changes were made to incorporate security features that are unique to only polymer notes to enhance the overall security level of the denomination. However, both the polymer and the current D25.00 notes shall be in circulation side by side and the latter will continue to be legal tender and be in circulation until it is fully withdrawn over time.
Furthermore, the CBG will introduce into circulation a New Family of paper base Gambian Banknotes for all other denominations except the D25.00 which will be replaced by the D20.00 note. These notes will include a New D200.00 denomination. A fundamental distinction is that all the notes are smaller in size and all of them bear the portrait of the President. This new family of banknotes will be circulated nationwide along with the existing banknote family of D100.00, D50.00, D25.00, D10.00 and D5.00 until these are fully withdrawn overtime."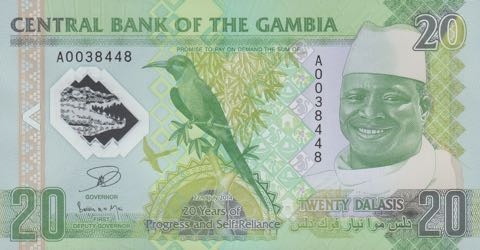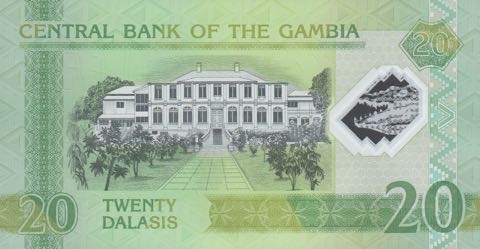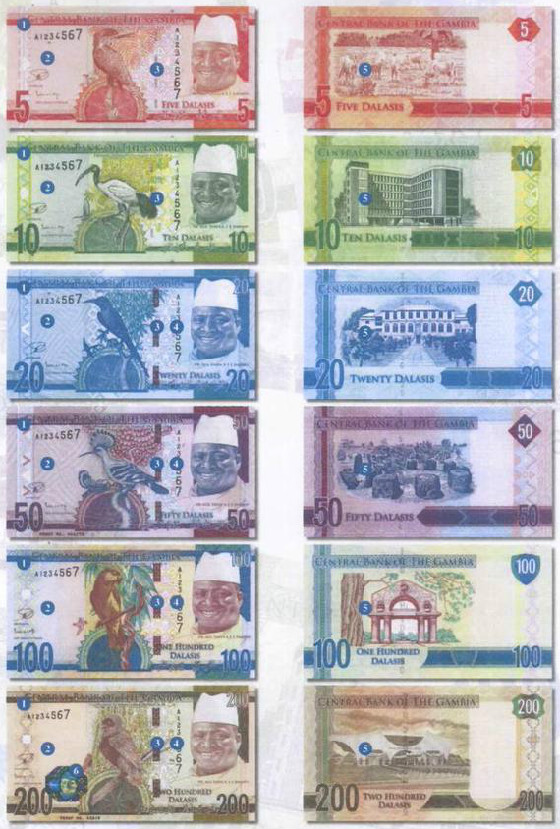 The entire poster above can be viewed
here
.
Update: better pictures of the 20-delasis note from banknotenews.com.