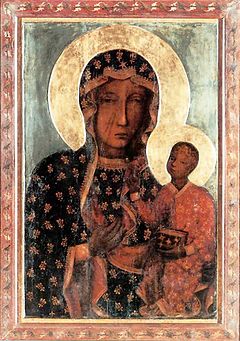 The Narodowi Bank Polski (National Bank of Poland) has announced its plans for special coins and banknotes in 2017. In the long list (unfortunately only in Polish at this moment, but in Google Translate for you to enjoy) we can see one "banknot kolekcjonersk".
In September of 2017 the bank will issue a commemorative banknote commemorating the 300th coronation anniversary of the image of Our Lady of Czestochowa. The icon was formally crowned in 1717 but the original icon is said to have been painted by the apostle St. Luke using a table top from the house of the Virgin Mary, the mother of Jesus. The icon is considered to be the Queen of Poland and many legends about sightings of Mary are associated with it.
Alle we know for sure, is that next year 40,000 pieces of this new banknote of 20-zlotych will be issued in September.
Courtesy of Zbyszek for the tip.