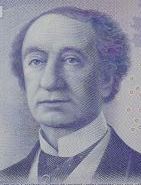 The Bank of Canada is planning a new banknote series which should see the light of day at the end of 2018. The first note of the new series will be the 10-dollar note. Viola Desmond (1914-1965) will be the face of that new note as I wrote in December 2016.
I also wrote that Canada's first Prime Minister, Sir John A. Macdonald who now features the 10-dollar note, would be honoured on higher value banknotes of the new series.
Well, guess again.
It has now been made clear that he will be scrapped from the banknotes all together because of the way he treated the indigenous population of Canada. As The Scotsman writes: "The move comes after a national debate over whether Macdonald should be excluded from anything bearing his name - including bank notes, schools and airports. The row centres around the Indian Act, brought in by Macdonald in 1876, which resulted in 100,000 native Canadian children being forcibly taken away from their parents.
The youngsters were sent to institutions to try to remove the "savage" influence of their parents. Instead, many of the youngsters were subjected to sexual and physical abuse at the hands of the people supposed to "civilise" them. The Indian Act was recently labelled "cultural genocide" by a national commission and a motion has been passed by the Elementary Federation of Ontario calling for Macdonald's name to be stripped from nine schools."