Exciting news from the Mujand Trading Company, the maker of one of the finest series of fantasy banknotes at this moment. A new limited edition polymer note is available and an existing series gets a makeover.
First the very first series A, featuring Early American Writers, gets a limited edition new 5-zilchy note made of polymer. The new back is very stylish and honours the works of Poe.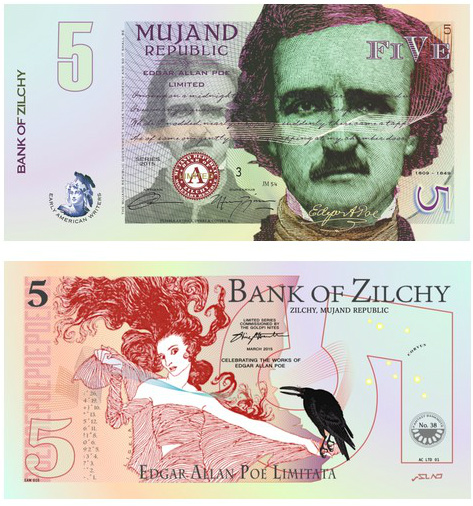 And second, the existing series C from the Kuninganna Territory gets a complete makeover. The old big white notes which resembeled the old British banknotes were, according to the story on the Mujand website, too big and too naked. Yeah I just love this kind of background story to a fantasy series! So now we get a whole new design which gives me an old Eastern European vibe. Looking forward to seeing the whole newly designed series!