After the spectacular fantasy Dutch-Mauritius set from Mujand designed by Celsus Solar, there is now a new former Dutch colony available in a perhaps even better looking set.
The Dutch Gold Coast, or Dutch-Guinea, was a colony in Africa so don't confuse it with Dutch-Guiana in South America or with Dutch New Guinea (currently known as Papua New Guinea) in Asia. Yeah, Dutch history lessons were always fun with all these confusing similar names.
But back to the Dutch Gold Coast which is the subject of this particular fantasy set. This small colony in present-day Ghana was the most important Dutch colony in West Africa. However, for some reason it is not as well known in The Netherlands as other former Dutch colonies like Indonesia or Suriname. This is not only due to the fact that those colonies were decolonized in the 20th century and and the Dutch Gold Coast was already abandoned in the 19th century. It also has something to do with the reason it was called the Gold Coast. You see, our ancestors made a lot of money on the Gold Coast, not only with shipping gold but also with shipping slaves. When the slave trade was abandoned in the 19th century the colony was more are less finished as well.
The Dutch shipped a lot of slaves in those days and consequently became very rich. These days however it is regarded as one of the darkest pages in Dutch history. And rightly so I might add. The colony was governed by the infamous Dutch West India Company which needed the slaves for the other Dutch colony in present-day Brazil and later for other colonies, either Dutch or from other countries.
Even though this history is dark, this set of fantasy notes is pretty much the exact opposite. Colorful on both sides and packed with images associated with the real country, like animals, masks and colorful dresses worn by (beautiful) women. This set has something for every thematic collector it seems. The colors of the notes are vibrant and really stand out when you have them in your hands. When I received the notes I found myself constantly looking at them with all the hidden details in both the design and the themes. Mujand has raised the bar again with a brilliant new set.
The notes are made of polymer and are 3.25" x 6.50" (82.55 x 165.1 mm) in size which makes them slightly larger than the Dutch-Mauritius set. The sets from Mujand are sold excusively by Yuri111 and fantasy_notes_and_more on eBay.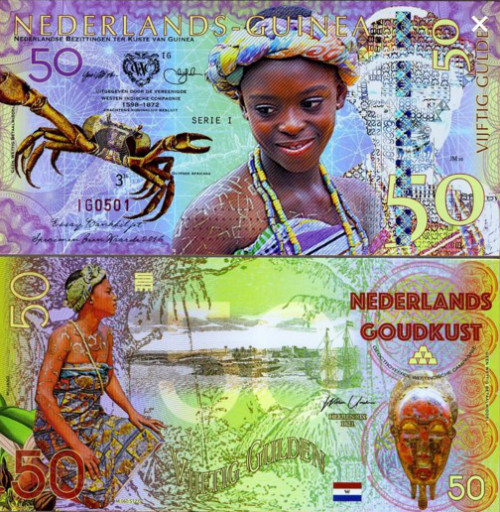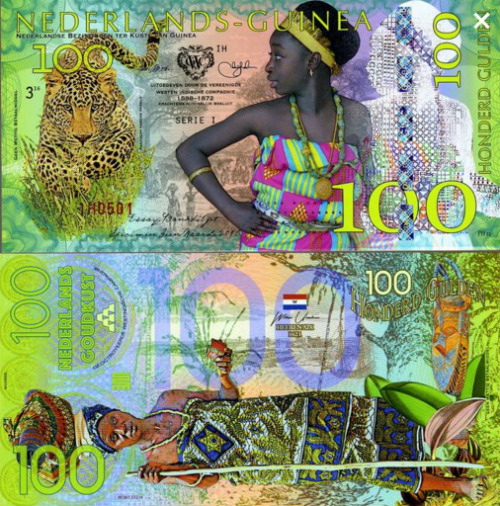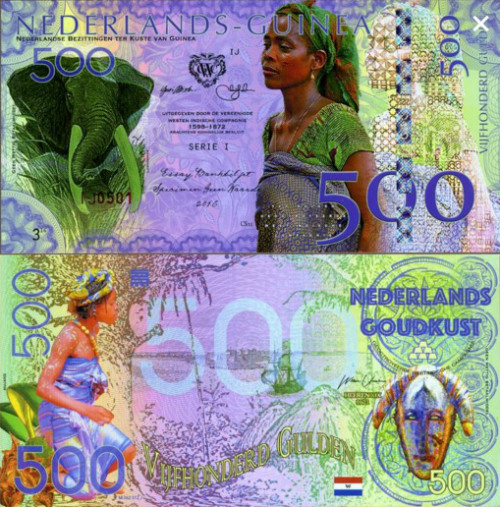 Disclaimer: these fantasy banknotes were provided for review purposes. The text is entirely mine and was not paid for or asked for in any way.