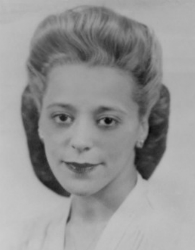 The Bank of Canada has chosen Viola Desmond (1914-1965) as the face of the next 10-dollar banknote of the new series. She is the second woman after Queen Elizabeth II but the first Canadian woman to feature on a banknote.
She was selected from a short list of five 'banknoteable' women which was publicized last November. From the website of the Bank of Canada: "Viola Desmond remains an icon of the human rights and freedoms movement in Canada. A successful Nova Scotia businesswoman, she defiantly refused to leave a whites-only area of a movie theatre in 1946 and was subsequently jailed, convicted and fined. Her court case was the first known legal challenge against racial segregation brought forth by a Black woman in Canada." You can read more about her here.
So what's next? The Bank of Canada: "The Bank will now begin to design this new $10 note featuring the portrait of Viola Desmond. Through consultation with subject matter experts, the reverse side of the note will depict symbols and images that represent the broader themes of social justice and the struggle for rights and freedoms.
To continue to celebrate more iconic Canadians, the next $5 note will also feature a new portrait subject and supporting imagery. In due course, the Bank will launch another consultation process to seek input from Canadians on the design of the next $5 note, building on the success of this most recent process.
This will be a few years in the making. The new $10 note is expected in late 2018, and the new $5 note will follow a few years after that, but soon enough two new notable Canadians will be celebrated on our currency. The subsequent notes (the $20, $50 and $100 notes) will follow every two to three years.
As Viola Desmond will be featured on the $10 note, and another iconic Canadian will be featured on the future $5 note, Canada's first Prime Minister, Sir John A. Macdonald, and our first francophone Prime Minister, Sir Wilfrid Laurier, will be honoured on our higher value bank notes. This will take place when the higher value notes are redesigned for the next series.
These changes mean that former prime ministers William Lyon Mackenzie King and Sir Robert Borden will no longer be portrayed on bank notes. The $20 denomination will continue to feature the reigning monarch."