A while ago I wrote about a new note from fantasy banknote creator Celsus Solar of Mujand. This note featured the beautiful nature of Yellowstone National Park. I expressed the hope this note would be the first of many because I think it's one of the most beautiful notes coming from the vaults of Mujand.
Well, joyous tidings indeed because yesterday I received two new notes from the National Parks series! While I expected to see other National Parks from the USA I was surpised to see two parks from around the world: Serengeti National Park in Tanzania and Jiuzhaigou National Park in China. Showing parks from around the world opens up a whole range of commercial and artistic possibilities so this is a very clever move I think.
Both notes have the same nominal value in the local currency: 50 shilling for the Serengeti note and 50 yuan for the Jiuzhaigou note. They also have the same size: 82.55 x 165.10 mm. But what's most important: just like the first note from Yellowstone National Park they look amazing.
The Serengeti note features a lion, local flora, a foil strip and a unique serial number on the front. The back shows a black rhinoceros, an olive baboon (papio anubis), a malachite kingfisher, a hot-air balloon and a map of the park.
The Jiuzhaigou note shows a giant panda, local flora, waterfalls, a foil strip and a unique serial number on the front. The back features a bharal (or Himalayian blue sheep), a golden snub-nosed monkey a white-browed rosefinch and a map of the park.
The attention to detail is visible throughout the design of these fantasy notes, for instance with the incorporation of the local languages. Like I said before: these notes should be available in the National Parks themselves and certainly belong in every collection of fantasy notes.
The notes are selling fast but can still be bought at the Mujand site where you can also see more video material from the different parks.
Let's hope we will see more notes from other parks in the future. The list of potential themes is long enough...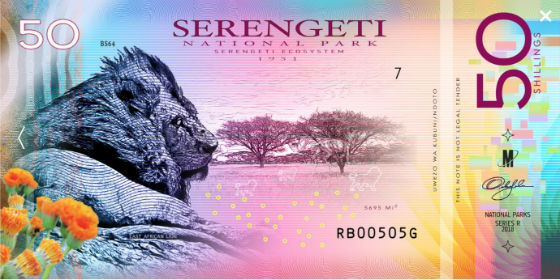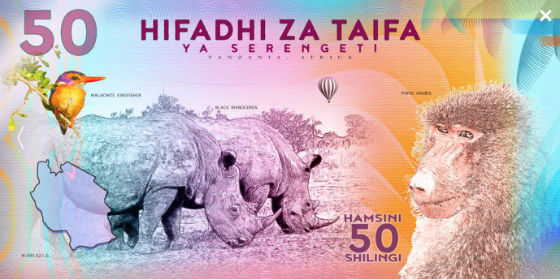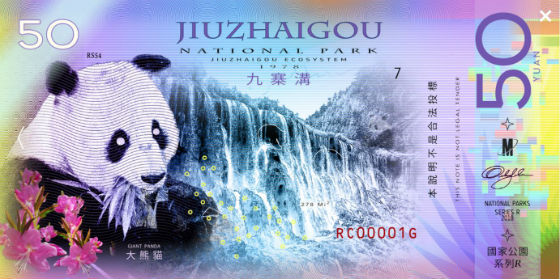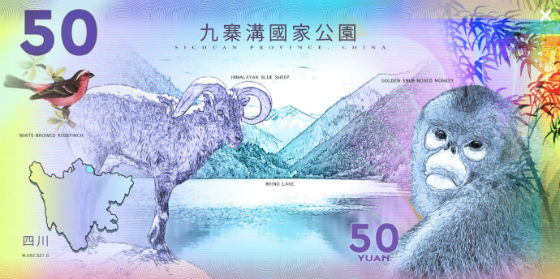 Disclaimer: these notes were sent for review purposes. The text is entirely mine and was not paid for or asked for in any way.