The South African Reserve Bank has issued an update of its current series of banknotes which was introduced last year. To mark the first anniversary of the release of the new series with the image of Nelson Mandela there has been an update in the design. A new security feature has been added on the front and the back of all the notes in the form of "tiny dots".
These dots are actually called an EURion constellation and were invented by the Japanese Omron Corporation. It consists of a pattern of five small circles, which is repeated across areas of the banknote at different orientations. Photocopiers can recognize these patterns and will give a warning or even refuse to copy the banknote. The security feature is widely used on banknotes like the euro, the US dollar and many others.
"Enhancing features on banknotes is an on-going process to maintain the highest level of quality and security. This is in line with international best practice," explained SARB Governor Gill Marcus.
The updated notes will be released from today, 6 November. The old design notes will remain legal tender and continue to circulate.
Old note: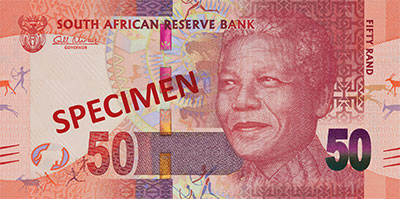 New note with detail of the new feature: